BIKE DESIGNERS MEETING vol.1:
Revenge night . . . the last night

We had revenge 0-4 drag races from evening on July 21st 2004. Revenge to anything, such as the record, competitors, how much understands himself, the public, the times, the environment. It was the last night we could stay in the meeting place. We had very good time to impress the special place on our memories.




Revenge night

REVENGE CLASS
RACE RESULT
* Check photos and time records here.
Almost full staffs of this meeting attended the tournament. Business people on the way home could came over at night. There were challengers much more than expected. Mr.Yajima, Cycle Cafe won the last tournament of this meeting. His victory was perfect and was good revenge. Mr. Miyazaki,
BICYCLE NAVI
rode on B PLUS to the race. Thank him for
reporting our meeting on his official web site.
Congratulations!

We had various recreational races. It was fun to compete easily, sometimes seriously. The photo, from left; Electric competition (OGYAN), Housewife competition (KIKO), Power assisted competition (Onohiroki & Oyama), Latecomer competition (Hikita, the bike commuter) Congratulations!!


The last night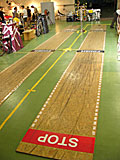 The bikedesigners meeting vol.1 concluded. Racetracks got many black marks by daily races and we feel it comfortable.
A 0-4 cafe suddenly appeared in storehouses. To enjoy 0-4 drag race easily without getting sweaty is one of good ways to enjoy bikes.
Thank you for coming and joining us. Special thanks to all attendants, supporters, cooperators, staffs.
Let's get together and have fun again!

special thanks !
Prizes:
Kadowaki Coating
,
Mizutani Bicycle
,
Kuwahara Bikeworks
,
Koichi Asano of Studio Ghibli
Photos: Nobuhiro Kobayashi, Shuji Yamamoto, Tsuyoshi Inagaki
Magazines:
BE-PAL
,
BICYCLE NAVI
,
CYCLE SPORTS
,
funride
BiCYCLE CLUB
,
Folding & Small Wheel Bikes
ON THE ROAD MAGAZINE