BIKE DESIGNERS MEETING vol.1:
Drag race Tournament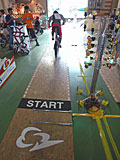 There was a track for Drag race in the center of the meetingplace. We enjoyed tense races competing in 0.01 seconds using the start signal, so called "Xmas Tree" We had an exciting Drag Race tournament on July 18th 2004, the second day of this meeting.
* Please check the results of the race. Detailed information is available on
BIKE FUN PROJCT
.
For entry
Start
STOCK CLASS

・ General class
・ Bikes for general use.
・ Any kinds of bikes, wheel size, manufacturers.

STOCK
PRO CLASS

・ Professional class
・ Amateurs are welcomed
・ No limit of customizing
・ Racing bikes are welcomed.


PRO
POWER-ASSIST CLASS

・ Power assisted bikes
・ Not only electric power, such as spirals, pressure tanks, and energy system. Major power must be by human. Tandem is allowed.

STOCK


STOCK CLASS

STOCK CLASS
RACE RESULT
* Check photos and time records here.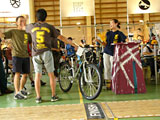 You can easily attend this stock class with your bike. You competed just in 2 seconds and then you enjoy rest of the race and bike show. Three Yellow lights flash every 0.5 seconds in turn for Stock Start, and it is easy to understand. Many riders attend the race at the day.
Everybody seriously competed in the race. Even professional riders had false starts and lost in prelims and so did many other riders. The final race ended up with a false start.We consider it shows riders' seriousness and it is one of advanced technique to make a competitor have a false start. Not every fastest rider wins this race. Everybody has a chance to win.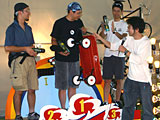 Mr. Ouchi won and he was slightly serious. He got a special wind-bell colored by Kadowaki and a special radio flyer with the cloud, our trademark, as a prize. Congratulations!! We worried how he takes home this radio flyer, however he enjoyed
pulling it by bike
.


PRO CLASS

PRO CLASS
RACE RESULT
* Check photos and time records here.
Pro class with Professional regulations, it makes you excited. Pro Start: Start in 0.4 seconds after three yellow lights flash simultaneously. It is very hard to catch the best moment for start, it needs the concentration on the race and technique. Unrestricted regulations for tuning-up require the attendance with super tuned machines.
ON THE ROAD MAGAZINE

Wheel Junky Team: Their junky-like fashion and bikes made us understand their good tension.

BiCYCLE CLUB

Team: Not only news coverage, they actually attended the race. They had hard training for start aggressively in outside.

anajite.com

Team: They are in "Onikogi" T-shirt. They learned how to start, goal and stop perfectly.
Thorough all races, we had many interesting scenes, such as, a rider concentrated in the starting moment, threw his bike but stop smoothly at the goal line. It was hard to know the best starting moment and to get the minimum reaction time record of 0.04 seconds. We hope your new challenge and records of Pro class next time.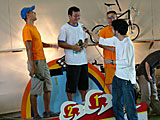 Mr. Shuji Yamamoto won this Pro class. He also had the best reaction time in this class. He was the Japan Champion of BMX and confident of his start dash. He is great!!He got a special wind-bell colored by Kadowaki and chemicals for bike maintenance by Mizutani as a prize. Congratulations!!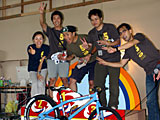 Wheel Junky Team got a special prize of Best dresser. They are recommended unanimously because they understand the ideal of this drag race and show it to us. They got a special wind-bell colored by Kadowaki and chemicals for bike maintenance by Mizutani as a prize.


POWER-ASSIST CLASS

POWER ASSIST CLASS
RACE RESULT
* Check photos and time records here.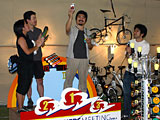 This class is also unrestricted but we have only few riders and bikes. Bikes have to be powered by man and there is no restriction of assist system. However, it is too hard to prepare power-assisted machines only for this race. Also, we feel that assisting too much is unfair. OGYAN from RINTENDO won this class. He made a power assisted bike a trial for this exhibition, and changed a little inside of the assist unit for this race.

Chief Fujisawa, a staff of this Bikedesigners meeting, had a hyper-wind-assisting unit with his bike…It looks like just a fan.


0-4 is the best!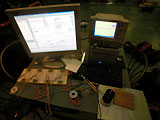 We concluded this Drag race with no accident. This is almost first trial and we managed. Thank you for coming and joining us. We once used
flags and stopwatches and judged by our eyes
. Off course it was fun. Now we have a great new electric system. Mr. Rou (
ROUDEN
), an electric specialist, and other staffs didn't sleep 2 days & nights and finally completed it. We keep updating this system for many events and trust it because it has any big trouble during all races. Now we can enjoy Drag race for bikes more than before. We had various races full of ups and downs and expect this race will develop. We want to hold this 0-4 drag race for bikes in the future, please feel free for joining in our race of 2 seconds.

special thanks !
Prize of Wind-bell & Radio Flyer: Kadowaki Coating
Prize of Chemicals for bike maintenance: Mizutani Bicycle
Photos: Nobuhiro Kobayashi, Shuji Yamamoto, Tsuyoshi Inagaki