BIKE DESIGNERS MEETING in TOKYO SHOW

We will have BIKE DESIGNERS MEETING in November 3rd-5th,
in Japan International Cycle Show/ Tokyo 2005 at Tokyo Big Site.
We have this event with Inter Press (the organizer of Cycle Show). We suggest you how to enjoy bikes by events that you can join, such as "
0-4 drag race
" and "
Chu-rin Compe
" Please come and join this very unique and valuable event!
Stijn Deferm
became the member of Bikedesiners.com. He is a bike designer of r&m Co. ltd (Germany) and started his own brand "
stijn!
"Also, device designers of our 0-4 drag race time system will work in front of you. Our booth will be wider, deeper, fresher, and busier than the last time. Lets' have fun!

0-4 Drag Race at Bikedesigners meeting!

Please challenge 0-4 Drag Race in our booth. This race course is only 4 meters long.The start signal, we call it "Xmas tree", will blink for your start. These match races conclude just in 2 seconds and your starting technique reduces the gap of the physical power between riders. Children sometimes beat adults when their starting techniques are perfect.Please see and feel the severe race competing in 0.01 seconds.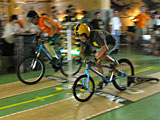 We will have exhibition races with popular professional riders. Their time records will be seen with the entry number, so that all riders can compete with their ranking records.Please enjoy the tension of the unique race!
* See details of this race at
BIKE FUN PROJECT
.
* See movies and race results at
Bike designers meeting vol.1.


You can entry in our booth !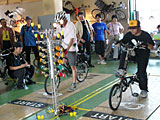 We welcome your entry for 0-4 Drag Race on the day. After signing the contract, you can challenge the super sprint race. We prepare racing bikes for you. You can start in both ways, Pro-class and Stock-class.

Resister in advance, you can take your bike to our booth !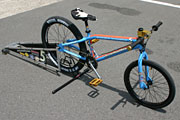 If you want to enjoy the race in earnest, take your bike for the race.You need to register in advance on
WITH BIKE ENTRY
and then you come with your bike to our booth. Get in the race with your full-tuned machine.We will have two official tournaments for your own bikes at the first and last half of 5 days show.Final races of these tournaments are the official event programs of Japan International Cycle Show/ Tokyo 2005 and many of attendants will come to watch. Please show them the exciting races with your best machines!
* Registration for taking your bikes at
WITH BIKE ENTRY
.
* Detailed schedule is available at
EVENT SCHEDULE
.

All the bikes in the booth are masterpieces.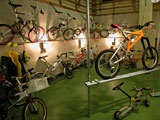 We put numbers on every bikes for entry in Chu-rin Compe. Voting papers are attached to entry cards for 0-4 drug race, so attendants can vote to your favorite bikes according to the theme.

Results of the poll will be on our web site and winner will get a prize.
We also welcome bike lovers who want to show your bikes, opinions and objections, though you are not good at 0-4 Drag Race. Please register in advance at WITH BIKE ENTRY and come to display your bike in our booth. We hope many of bike lovers come to our booth with bikes.
* Registration for taking your bikes at
WITH BIKE ENTRY
.
* Details of Chu-rin Compe are available at
BIKE FUN PROJECT
.

Robots will challenge 0-4 Drag Race.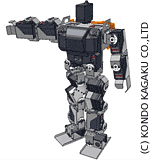 iXs Research Corp.,
the robot development company, cooperate us and robots will challenge 0-4 Drag Race. KHR-1, the Humanoid, which fights in ROBO-ONE and is 30 cm height. Dog Robot, which is from Zurich University and displayed at the Aichi Expo. They will run on a special lane in the center of the racecourse. They will challenge to us using their robots' technique. Also they will help us in the race management. Please enjoy a collaboration of different industries.