BIKE DESIGNERS MEETING vol.1:
ACADEMIC DAY

We had general programs not only busy ones.
Thank you for coming and cooperating us.


Emotional Colors - KADOWAKI
Kadowaki had a show and consulting place of their original painting. They displayed samples of Powder coating, which made the quality of bikes better, so visitors could see the samples in front of their bikes together and talk with a specialized staff for painting. They also cooked very good fried noodle, didn't they?

Information of a leaflet
KADOWAKI'S ROOM directs colors."From bikes to carscthe world of Powder coating is infinite. The relation between design and color usually delights us. We displayed many kinds of samples and you can realize the quality of Powder coating. We also have a comfortable space and you can expand your color image and talk with your friend about colorcthough we do not have a cute attendant, please come and see how it goes. We cook fried noodle for you. You must fall into temptationc


RICAGRAPH
Do you know the Recumbent? It is one style of bike. It looks unique in style and deferent from a general bike. However, it is stress free designed and each model is different how to ride and use, the speed, the difficulty for riding. Recumbent owners cooperated us to display their bikes in our show. Hope you enjoyed Recumbents.
RECUMBENT CYCLING CLUB
http://onohiroki.cycling.jp/community-bent.html


c y c l e c a f e
Cycle cafe in our meeting.After parking a bike at the special cycle stand, the owner enjoyed tea break with his bike. Soft drinks and sorbets were available. Thank you for enjoying Cycle Cafe.During this meeting, they displayed R-cycle project and show us their bike design. R-cycle project is to recycle ordinary bikes into the artistic bike. They showed us their own bike design.

http://www.cyclecafe.jp


Time capsule of delusion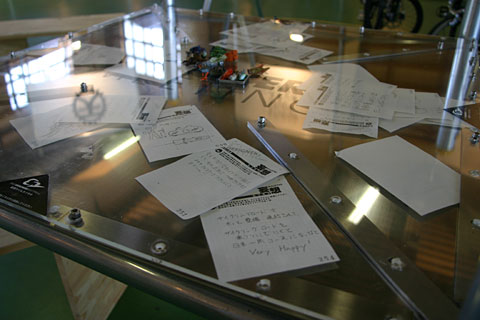 Visitors put their delusion and dream about bikes in our original time capsule. The time capsule was a thin case and it was made by a stainless steel plate and an acrylic plate. You draw your delusion and dream in paper card and put it through a slit into the time capsule. The time capsule was also used as a table in the meeting.

Information of a leaflet
Please record your delusion and dream of bikes on the card while you see bikes and programs in this meeting. If you put your card in the time capsule, your entry will be accepted automatically. It cannot be cancelled until the time capsule is opened a few years later. Please give us your great idea in your delusion and dream, so that you will be able to proud of your idea when we open the time capsule.If you would like to protect your idea, please have some legal procedures such as application of a patent until we open it. We cannot return your card after your entry.

Sequel
We keep the time capsule strictly in somewhere. A few years later, in Bikedesigners meeting Vol.X, your delusion and dream will be opened to the public. Now we do not have any plan for the day. Please wait!

special thanks !
Photos: Nobuhiro Kobayashi, Shuji Yamamoto, Tsuyoshi Inagaki